CULTURAL MEETING
"
LA MEMORIA DELLA SHOAH IN PUGLIA"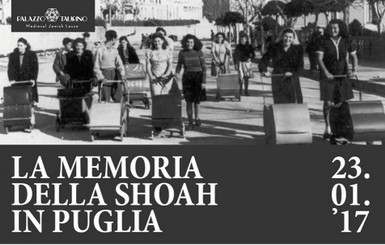 Monday 23rd of January 2017


5.00 pm




Palazzo Taurino museum



The meeting will start showing the preview of "Memorie di Leuca. Intervista ad un testimone dell'accoglienza salentina ai profughi ebrei", a documentary about Mr. Donato Schirinzi and his experience in Santa Maria di Leuca DP (Displaced Persons) Camp.

At 6.00 pm, the documentary "Rinascere in Puglia: Shores of Light" (Israel 2015) is projected with the director Gady Castel and
Shuni Lifshitz,
one of the character. The film follows the story of three Israeli women who were born in Santa Maria di Leuca (1946). They decided to discover the footprints left by their parents and all the Jews who survived from WWII and arrived in Salento Dispalced Persons Camps.